Business owners frequently find themselves unsure of how to enhance their business and where to begin. An accountant, acting as a reliable advisor, possesses the expertise to offer guidance based on their clients' financials.
Here's how to get the process going
To begin, allocate dedicated time in your schedule specifically for coaching sessions. These designated blocks of time will become a valuable component of the services you offer. If your calendar is already packed, don't worry – we're here to assist you in finding ways to create more availability for your clients.
Once you've established your coaching time, it's important to start off with simplicity. Gauge your clients' level of awareness regarding their financial metrics. You may be surprised to discover how little attention they actually pay to their books. Begin with straightforward questions such as the number of customers they have or the volume of transactions they facilitate in a year. The specific inquiry will depend on the nature of their business.

This initial analysis of the numbers can serve as a powerful tool for your clients, illuminating their business with a fresh perspective. By providing them with new insights and information, you have already delivered a valuable service. Moving forward, delve into other factors that influence a business's financial well-being. The specific elements on your checklist will depend on the nature of each individual business, but some commonly examined items include:
The number of customers they have.

The customer retention rate compared to the customer attrition rate within a specified period.

The number of new prospective customers attracted within the same timeframe.

The conversion rate of potential customers or clients into actual clients.

The frequency and monetary value of customer or client interactions with the business during the specified time period.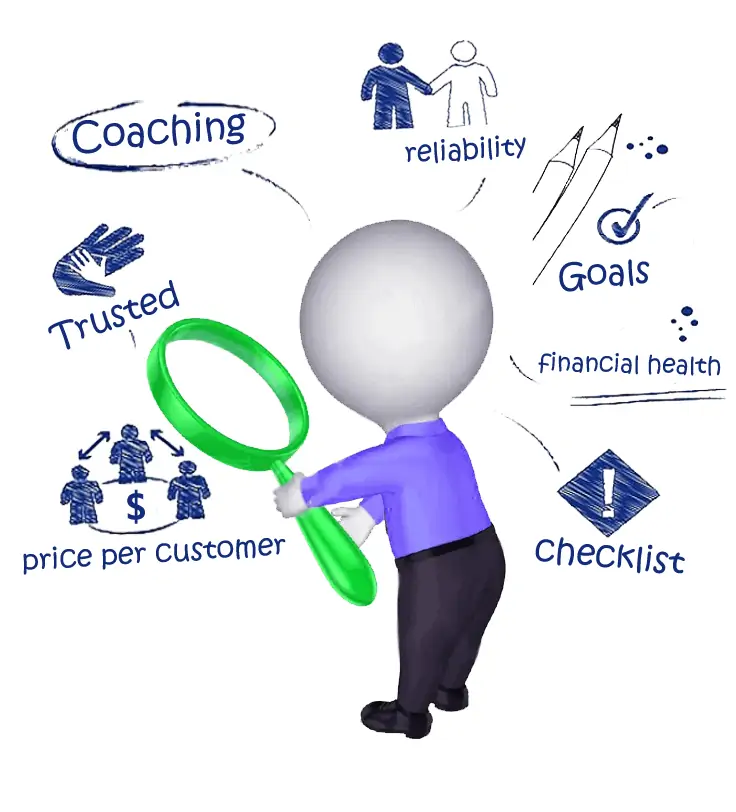 To determine your client's goals for the upcoming year, it's important to elicit a specific and achievable objective that can be documented on a calendar. Once you have established this goal, you can assist them in examining the factors mentioned above that can be manipulated to attain the desired outcome. By collaborating with your clients to establish their starting points (such as customer count, retention rates, and price per customer), you are now equipped to offer them a more precise understanding of the actions they should take to accomplish their objectives.
If the objective is to reach a specific monetary target, such as earning a certain amount more in the upcoming year, it's possible that the focus is on the wrong metric. Instead of investing significant resources in marketing to attract new customers and meet the increased year-end goal, a more efficient approach may be to analyse the numbers. By conducting some financial analysis or even performing simple calculations, it becomes evident that achieving the year-end goal could be as simple as raising the average price per widget by just five cents.
By providing guidance and implementing strategies, you have successfully steered your client towards their intended goal. Not only have you achieved this, but you have also saved them a significant amount of money and time that would have been otherwise spent on ineffective marketing and unsuccessful conversion attempts. Your expertise and dedication have paved the way for a more efficient and successful journey for your client, ensuring that they are one step closer to achieving their desired outcome. Your client can now focus their resources on other aspects of their business, knowing that their marketing and conversion efforts are in capable hands. Your role as a trusted advisor and consultant has greatly benefited your client, solidifying their trust and reinforcing the value of your services. Thanks to your strategic guidance, your client is well-positioned for continued growth and success.
While it may seem simple, it's important to remember that your clients may already be overwhelmed with the demands of their business. All they needed was someone like you to provide a fresh perspective and offer a simpler solution. By doing so, you become the hero in their eyes, giving their business a much-needed boost. As word spreads about the exceptional service your firm provides, you'll undoubtedly gain a positive reputation in the industry.