If you're exploring accounting and bookkeeping services, the phrases "virtual," "online," and "outsourced" are all frequently used interchangeably in the same sentence. Despite the fact that they are based on the same principle and provide comparable services, further investigation reveals that there are some very major distinctions between the three.
Virtual Accounting and Bookkeeping
Virtual bookkeeping and accounting can be a general term that refers to bookkeeping and accounting services that are provided over the internet. When we say "virtual," we're referring to dealing with a person or people through the Internet rather than in person.
A lone bookkeeper working from home is likewise included in the definition of "virtual bookkeeping" and "virtual accounting." Even though some virtual bookkeepers and accountants are very good, they often don't have access to powerful technology or the most up-to-date training, and they don't usually have other people they can ask for help or cover for them if they fall ill or take time off.
They aren't primarily created to aid management accounting and, accessed through the internet, can lead to errors and erroneous accounts, inadvertent regulatory violations, the potential for fraud, poorly-equipped technology, and untidy accounting procedures that can result in business demise.
You might think of it as employing a part-time bookkeeper or accountant to assist with accounts payable, accounts receivable, payroll, and other routine accounting or bookkeeping activities in a virtual setting.
Businesses wanting this kind of bookkeeping and accounting support would be well served finding someone local owing to the dangers of providing an anonymous someone access to company data and even perhaps your digital files.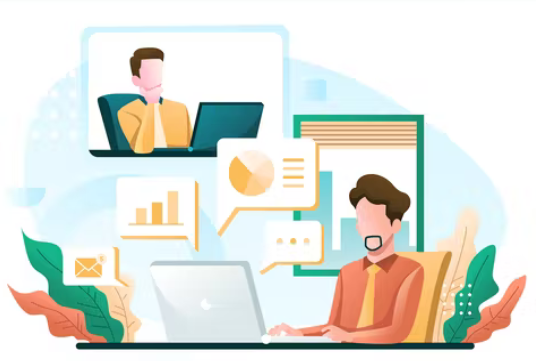 Reduce In-House Costs!
To save money, you can outsource some of your business's most important tasks to someone else. You and your staff can devote your time and energy to the things you do best, not recruiting and selecting, training, and managing people who work for you. A full-time accountant and in-house bookkeeper are often hired when a company's bookkeeping and accounting workload becomes too much to handle on its own. Keeping track of all of this extra staff may be time-consuming and expensive, and it can lead to improper financial management, inefficient processes, and a lack of management supervision if not done properly.
What Are Outsourced Accounting and Bookkeeping Services?
To use the phrase "outsourced" in this context, you're referring to services that are either provided by a third party or aren't performed by in-house staff. As a result, offshore, virtual, and online accounting and bookkeeping services are all considered to be outsourced services.
Outsourced accounting services
are a sort of cloud-based accounting and bookkeeping service that extends the service and software paradigm well past that of an online accounting and bookkeeping firm. Smaller and mid-sized businesses can use this different model to boost cash flow and earnings without increasing costs since it offers a better and more scalable service offering.
Outsourced Accounting and Bookkeeping Services: What They Can Do for You
Using
outsourced accounting
and bookkeeping services can have a transformative effect on small and medium-sized enterprises. For a fraction of the cost and hassle of hiring in-house employees, companies who utilize an
outsourced accounting
and bookkeeping provider can access a fully functional accounting department that has all of the same skills as a full-time employee. A fraction of the expense of an in-house accounting and bookkeeping division can be obtained by using
outsourced accounting
and bookkeeping firms, which provide you access to all the financial information and analytics that a smart back office provides.
Are You Ready for BOSS Outsourced Accounting Services?
When you use BOSS' outsourced accounting and bookkeeping services, you get a team of financial experts that are well-versed in QuickBooks accounting software and other cutting-edge, well-proven technologies to:
maximize sales, profit margins, profits, and the overall size of your company.
reduce the time and effort required to maintain accurate financial records
make data-based decisions and budgetary techniques
boost efficiency, structure, and operating excellence
give you financial data that is current and historically correct
increase financial stability
Boost working capital and cash flow
BOSS' outsourced accounting and bookkeeping services will help your expanding firm take that next step.