It's not easy to stand out from the rest of the pack. You've got your local competition to deal with, never mind the firms riding the advertising coat-tails of international financial umbrella corporations. In this article we'd like to discuss a way to make your firm stand out and how accounting outsourcing can help you make your mark.
The Problem
Generally speaking the problem is that accountants aren't marketers. It's an entire skill-set one isn't likely to be taught in accounting classes. It can also take up a tremendous amount of time and money… two commodities you probably don't have in excessive supply if you're running a small shop.
More specifically, accountants tend to make this one big marketing mistake – they market themselves as accountants. We're sure you've probably found out by now that the word "accountant" doesn't hold a lot of sex appeal in the marketing realm.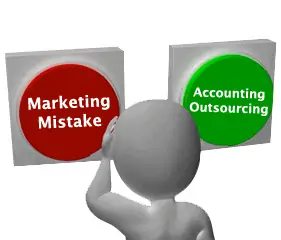 Problem Solvers
What does hold a lot of appeal for people, be they individuals or business owners, is finding someone who can solve problems for them. The more problems they can solve, the better (which is where accounting outsourcing will come in).
So here's a marketing 101 lesson – don't make your marketing (ads, social media, your website, and so on) about you, make it about your potential clients. Make your menu of services reflect what pain points you can heal.
So let's say you're trying to reach start-up businesses. Budding entrepreneurs are going to have a litany of accounting woes that they're encountering for the very first time. There's a good chance they're not going to be prepared for all the paperwork involved in getting their venture off the ground.
It's time for you (and your accounting outsourcing team) to swoop in and save the day. Don't make your marketing just a dry menu of services; make it about how your firm lives to help new businesses take their best possible shot. Show that you know all the hurdles that these new businesses are going to be facing and that you know how to help the businesses get over them.
Pro tip – as you get some of these successes under your belt, don't be afraid to ask for recommendations. Even better, ask for recommendations that outline how you helped solve specific problems instead of generic recommendations that just say you're a super guy or gal. Specifics are always more telling than general statements.
More Problems to Solve
Now that you're a hero to small businesses (or whatever niches you choose to tap) and not "just an accountant", it's time to grow. You do this by helping more businesses solve a wider variety of problems.
But as you branch out you're going to find that you have to spend the time and money to find or train specialised accountants… or you can save yourself those troubles by turning to accounting outsourcing.
The menu of accounting woes that you will be able to relieve is immense because there isn't anything in the Australian or New Zealand tax realm that BOSS' overseas workers can't handle. You name the problem, there's a pool of already trained, certified, and experienced workers who have dealt with it on multiple occasions.
BOSS gets to solve your expansion woes, and you get to solve more problems for a wider and expanding range of clients.