Why Your Business Needs Google+
NOTE: As of April 2019 Google no longer offers the Google+ platform. BOSS offers a free Expert Step-By-Step LinkedIn Guide to Get Your Business Seen Online Click here for the whole guide.
4. Be More Visible in Google's Search Engine Results.
Those same boxes that show up on Google maps also show up in Google's search engine results. If we try "coffee shop Perth Australia" we get:
The outsourced accountant..… With a minimum of 50 hours per month only, you can have a dedicated professional accountant!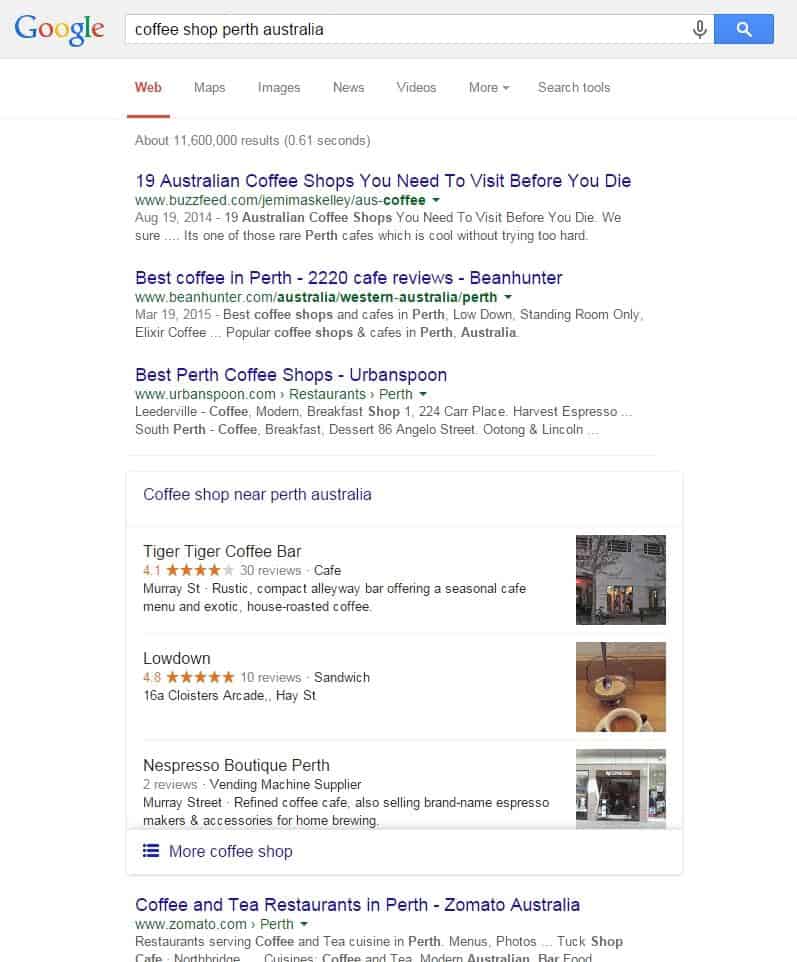 Those boxes and pictures stand out from the regular text, don't you think?
If only outsourcing could offer companies the outsourced accountant at a fixed fee rate for every job…..
5. Add Customers and Clients to our Google+ "Circles."
"Circles" are Google+'s way of creating specific groups of people. So we might have one circle for family and friends, and then another for customers.
This means that we'll be able to hit all of our customers at once with a promotion, freebie recipe, notice of charity work, tips, commentaries, blog posts, photos, videos, you name it.
As with all social media, the name of the game in Google+ is interaction. So while we're sending our posts, we'll also be able to see responses, and respond to them in kind.
The more engaged we are, the more we stay in the minds of our customers. The more engaged they are, the more likely they are to buy from us and to tell their friends about our business.
Added Bonus – We edit which circle sees what. So we can feel free to send friends pictures of our drunken revelry weekend without worrying about our bosses or clients seeing it.
Second Added Bonus – We're more likely to show up in search results for searches done by people included in our circles. When people do searches they usually have the "private results" (which means personalized results) turned on instead of global (non-personalised results), like so: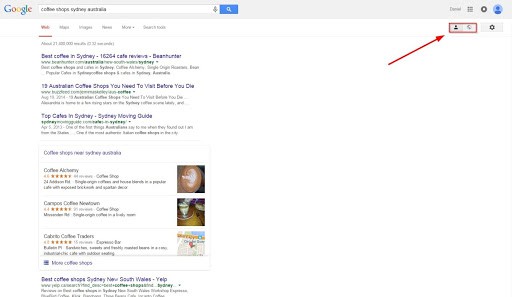 This gives our output even more of a chance to make an impact.
The outsourced accountant…..The best outsourcing offer up for grabs now with BOSS. Forget about budget write-offs and paying overtime/ annual or sick leave… for good!
6. It's Another SEO Avenue.
Not familiar with SEO? It stands for Search Engine Optimization, and it's all the rage in getting recognized on the internet.
Specifically, when people search for a business just like ours they enter certain phrases or keywords into a search engine (Google being the biggest search engine by far).
So let's say we own a lingerie shop called "What's This Button Do?" Someone searching for a shop like ours might try, "lingerie" or "lingerie store" or something more local like "lingerie shop Sydney."
These are all SEO key-phrases. Some phrases are used more than others. The more we "own" such a phrase, the more likely we are to show up higher in Google's results.
Showing up high in the results is ultra-important. Think about whenever you search for a business – how often do you leave the first page of results? Do you ever go beyond the second page?
It's the same deal for people searching for a business or service like ours. Our Google+ page lets us associate key phrases with our business, giving us more ownership over them.
Get direct contact with the outsourced accountant dedicated to your business needs anytime Monday to Friday….
7. Hangouts.
Google's Hangouts allow for free phone calls or video conferencing right from our Google account. Easy peasy. We can even host a session for some of our closest customers, sharing recipes, giving tips, or holding lessons.
Continued in next post: Google+Guide Part 2 Creating Our Google+ Profile