Creating Our Google+ Profile
NOTE: As of April 2019 Google no longer offers the Google+ platform. BOSS offers a free Expert Step-By-Step LinkedIn Guide to Get Your Business Seen Online Click here for the whole guide.
Creating Our Google+ Profile
This is the face of our Google+ presence, the images and text all of our visitors and potential customers are going to see. It's important to take the time to spruce the joint up a bit, creating a professional first impression.
There are two main factors to keep in mind when creating our page. The first of course is that we want to show what we are selling.
An account manager for all the outsourced accountant work needs…
The second thing to keep in mind is how we are selling whatever it is we're selling. In other words, what kind of experience will clients or customers have when they deal with us?
Are we a streamlined, no frills, incredibly serious institution, or are we a fun-oriented start-up? This is the voice, vibe, or culture of our business, and it can be a big factor in people choosing us over our competition.
So keep those two points in mind – what we're selling, and how we're selling it, as you build our page.
The outsourced accountant..… With a minimum of 50 hours per month only, you can have a dedicated professional accountant!
Get a Google Account
If you already have a Gmail account you can skip this step. If you don't, you'll need to get one since all of the various Google programs are connected.
Go to Google.com. Create an account like you would with any other service. You will need another email address because Google sends you a confirmation email to that address to create your new Gmail address.
You can create more than one account on a computer, say if you want a personal account and a business account.
If only outsourcing could offer companies the outsourced accountant at a fixed fee rate for every job…..
To create additional accounts, click on the blue icon at the top right once you're signed in with the first account you created:

From there simply choose the "Add account" button.
The outsourced accountant…..The best outsourcing offer up for grabs now with BOSS. Forget about budget write-offs and paying overtime/ annual or sick leave… for good!
Getting Familiar with Google+
If you've never had any interaction with Google's various online entities before you're going to get a starter page that will attempt to introduce you to things you might be interested in.
From then on when you first sign in you'll get a page that looks something like this: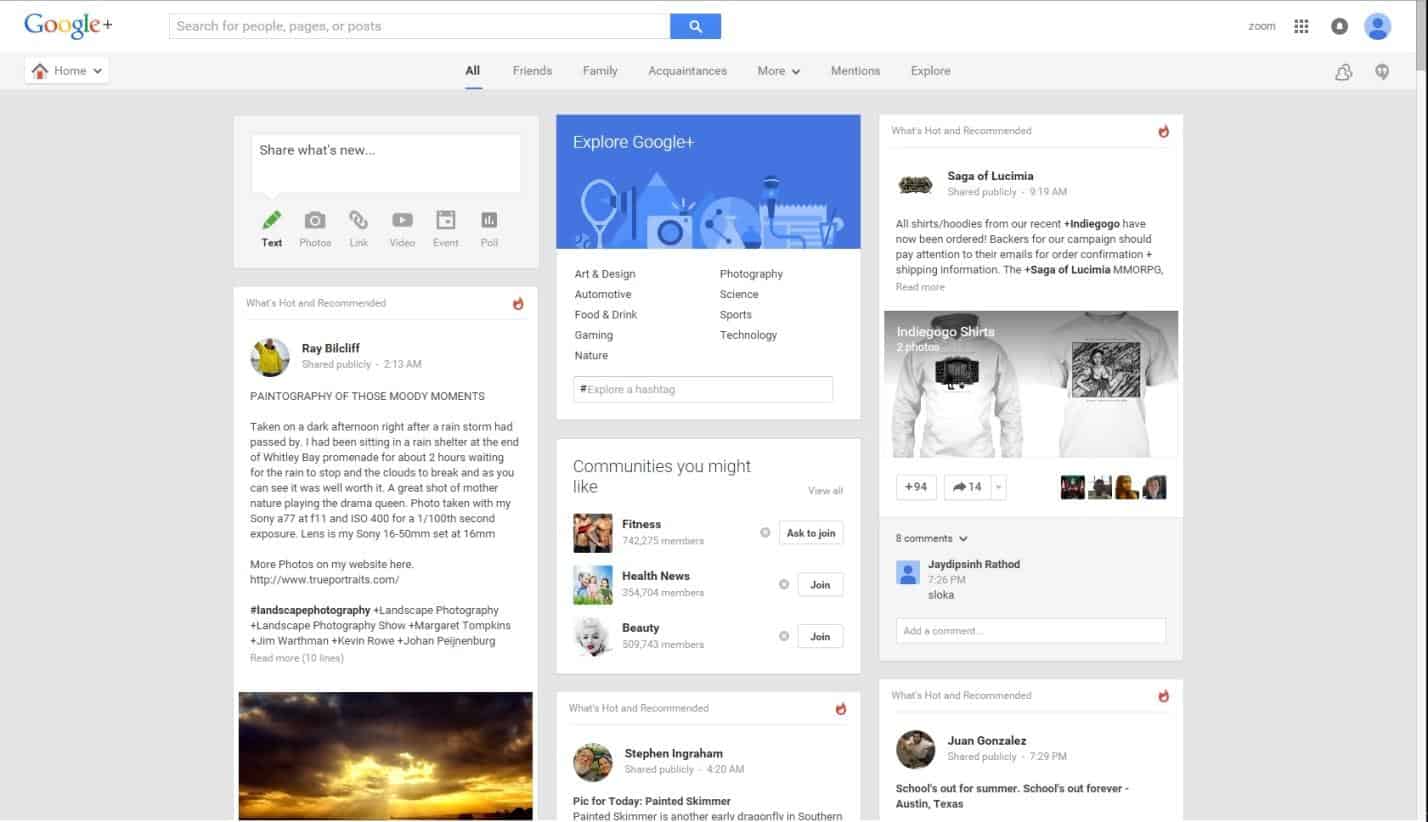 All of those boxes in the middle are filled with items that people you're connected with have posted or pointed out. If you're familiar with Facebook or Twitter, this section is like your timeline or newsfeed.
At the top right are two icons, under the blue circle icon. The one on the left, the outlines of two people, suggests people you might want to add to your friends list.
The icon that displays a quotation mark is used to start a new conversation.
You can feel free to click on either of them to have a look-see at what they do. They don't immediately do anything beyond opening menus.
If you click on the 3 x 3 grid to the left of the blue icon it displays all of the various Google programs you can access. They're all connected to your account.
The box at the top left in the main central section, where it says "Share what's new…" is where you create new posts to send out to your circles. You can create posts containing text, photos, links, videos, scheduled events, polls, or combinations of any of the above.
Along the top you see All, Friends, Family, Acquaintances, More, Mentions, and Explore.
All, Friends, Family, and Acquaintances are all circles that are pre-made for you, ready for you to slot your connections into their proper places.
The More selection gives you a drop-down menu where you can change your stream configuration (how the boxes of texts from your connections appear) and add a new circle called Following. This would be a circle of people that you follow, but don't fit into any of the above categories of circles.
Mentions is a timeline of posts mentioning you.
Get direct contact with the outsourced accountant dedicated to your business needs anytime Monday to Friday….
Continued in next post: Google+Guide Creating Our Google+ Profile Continued Part 2a