Outsourcing accounting work aids you in expanding your firm in two major ways. First, it frees up a lot of time so that you can look to expand your offerings of services to your clients. Second, it saves you a significant amount of overhead. So once you have your outsourcing in place how can you begin to advertise your expanded menu without losing all that freed-up money to marketing costs?
Advertise at the same time as you work
The first way you can save a nice bit of marketing change is to sneak in your advertising on the sly while you're interacting with clients, which is something you're going to be doing on a regular basis anyway.
You're outsourcing accounting work so you're getting your clients' files back to them in a timely manner and with a quality of work that reflects your commitment to bettering your clients' financial health. Your clients are going to expect meetings with you, or at the very least emails. These communications aren't just an exchange of financial info, they're also your chance to promote your firm.
If you have face-to-face meetings, write up a formal agenda. Use the time you free up by outsourcing accounting work to include a section where you explain the kind of work that goes into doing a file. This isn't to say you brag all over the place; rather, you show that you went the extra mile here and there and discovered an extra benefit the client had never tapped before, or you've noticed how they could be raising their prices without suffering from client loss.
This extra work is likely to impress your client. They're going to see a firm that cares about their business or personal finances. This is what leads to referrals.
Speaking of referrals, make them part of the agenda. Somewhere near the wrap-up for the meeting put in a point in the agenda where you're plainly going to ask them to refer three people if they're happy with your work. If you're outsourcing accounting work then you're going to have the time and expertise to make sure that your clients are indeed happy, so how can they say no? (Also, it makes it easier on you if you're a bit squeamish about asking for referrals.)
Offer them a deal – for every referral they bring in they get a discount on such-and-such a service. Tell them that this deal is exclusive – everyone loves being thought of as worthy of being in the insiders' club.
You've now just marketed your business and spent absolutely no money on advertising.
Partner with other businesses
Spend some of the time you've freed up by outsourcing accounting work to think about another business or two that might benefit from partnering with you. For this to work you're going to want other businesses that service the same kind of clientele.
So let's say your firm works a niche market of new small businesses. Who else would potential clients opening a new small business seek out? Banks for loans. Lawyers. Furniture sellers. Interior decorators. Equipment suppliers. Etc.
Pick a couple of these other links in your potential clients' business chain. Form a package – "go with us and you get your accounting, lawyering, and interior design at X percent off".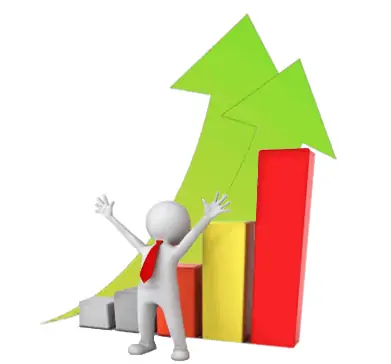 Use that freed-up time you have from outsourcing accounting work to hold seminars with your partners for new business owners. Or swap seminars – you hold an accounting seminar hosted for clients of your equipment supplier partner. Or you host your clients in a free banking seminar.
Combine to create a shared email newsletter that goes out to all the clients on all of your mailing lists. Have a blog for your business' website? (Hint: you should.) Give over a guest spot once a week or month to one of your partners and likewise send over a monthly post to one of their sites.
Share costs in traditional advertising. Share trade show duties.
All of these partnership activities (along with outsourcing accounting work) are going to save you significant advertising dollars while reaching a far more receptive audience than going solo in the traditional marketing route.