Opening up your own firm in the competitive Australian and New Zealand fields takes a fair bit of courage. It won't hurt to have a little know-how to back that courage up. We here at BOSS love helping new firms get their start, and today we'd like to talk to you about how using a virtual accountant can help you get up and running.
1. Be Able to Show How You're Different
There are too many firms out there for you to purely hang out a shingle and expect people to come. You've got to have an angle, a hook, a little special something that distinguishes you from your competition.
That means picking a niche market to cater to (at least at the start). Don't offer every accounting service under the sun; instead offer some real expertise on the accounting services that will, for example, help people start their own small business. Or create an SMSF group. Or take over your clients' nasty old payroll work.
As time goes on and you turn out quality work your clients will want you to handle more and more of their other accounting needs. Having BOSS' deep pool of trained virtual accountants means you'll be able to quickly get up and running on whatever service your client needs next.
2. Set Goals
It's not enough to simply throw open your doors if you want your firm to grow – you've got to have milestones set firmly in place. Set a specific goal for exactly one year from today – maybe it's to have 20 more clients, or to reach a certain monthly income, or to be able to offer 2 additional services that you don't have on the menu right now.
Your virtual accountants are going to help you achieve these goals. How? By freeing up your time. Your overseas team will be doing the compliance work, the auditing, the payroll, whatever, leaving you to get some serious work done on your goals and sub-goals.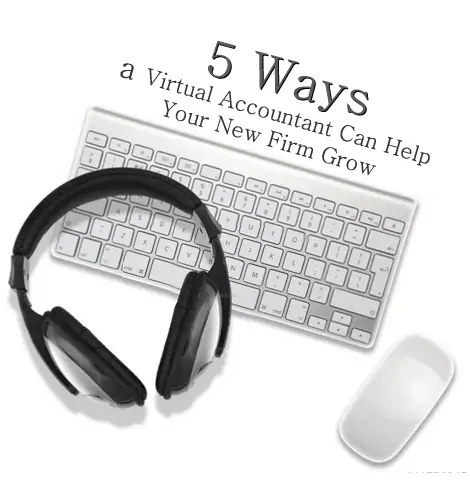 3. Document How You Prefer to Work
You're the one who is going to learn how you work best with your clients. As your firm grows and you bring new people on board (be they in-house or overseas) you're going to have a much easier time integrating them into your workflow if you have your tried-and-true processes down on paper.
This isn't to say you have to be completely inflexible – for example you're probably going to find that your virtual accountants return files quicker than you initially expected. You can adjust your workflow to better fit your team's strengths and weaknesses. But you're going to find the whole process so much easier if you have it down on paper first.
4. Fill in Your Quiet Times
Depending on the work that you do you may end up with your firm's version of an "off-season". But these slow times can actually be to your advantage because you can use them to add other services to your menu.
For example if your firm is all about personal income taxes, once the season is over you can look to see which other kinds of accounting work will make for a steady income in your calmer months.
With virtual accountants you don't even have to go through the process of hiring new people who specialise in your new offerings. You simply need to learn what kind of information you need to collect, do the actual collection, and (with the aid of cloud computing) you're done until you're ready to review the file at the end of the turnaround.
There's no longer any need to totally rely on a busy season to carry you through the rest of the year.
5. Get Feedback
If you're not sure what kind of goal (or sub-goal) you should set for yourself in Point #2 then turn to your best source of feedback and ask them – your clients.
Once you've worked with your clients for a while they're going to have developed a sense of what they like about you and what they might prefer if it had a little bit of a tweak. Take you client out for a coffee or a lunch and get their thoughts on how you might serve them better.
Chances are that if you've already been giving them top-notch service then an item on their wish-list will be that you could handle more of their accounting work. This means it's time to add expanding your menu of services to your goals. And you've already got that goal licked with your team of virtual accountants.