News & Updates

Google+ Guide Series
May 21, 2019
Google+Guide The "About" Section
NOTE: As of April 2019 Google no longer offers the Google+ platform. BOSS offers a free Expert Step-By-Step LinkedIn Guide to Get Your Business Seen Online Click here for the whole guide.
The outsourced accountant… With a minimum of 50 hours per month only, you can have a dedicated professional accountant!
The "About" Section
If we hit the About selection we get brought to this: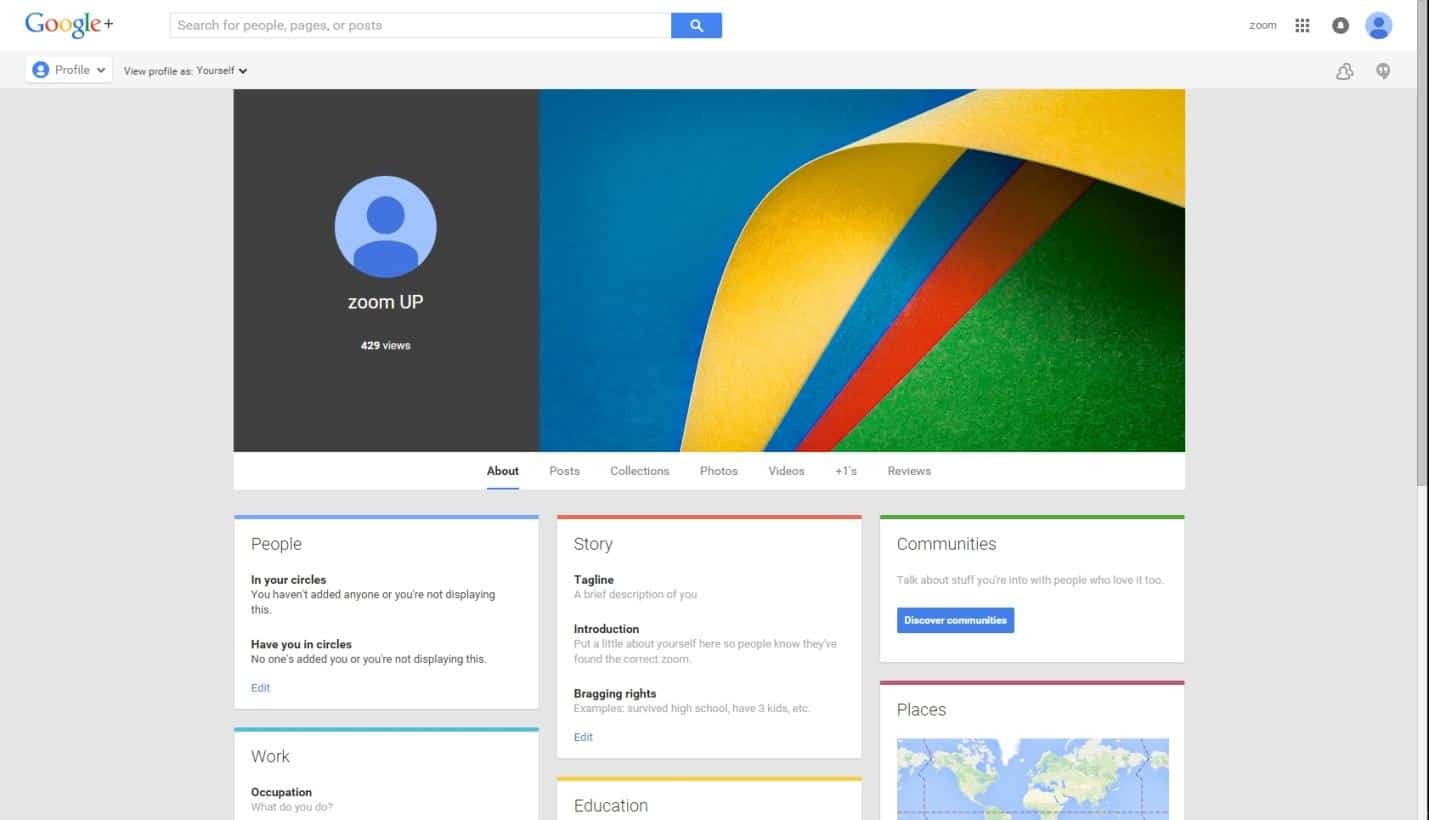 This is where we get to work on our permanent text (permanent in that it doesn't disappear like our posts do, being pushed down over time; but these text boxes can always be edited).
Each box is quite self-explanatory.
The People box is about what circles you're involved with.
The outsourced accountant – BOSS' greatest offer….
The Story box lets you put in a tagline, an introduction, and some bragging rights about your business.
What's a tagline? Think about those little phrases you see on movie posters. For example Alien had the phrase, "In space no one can hear you scream." Nike has "Just Do It." McDonald's has "I'm Lovin' It." Pro tip – keep this one short and punchy.
The Introduction on the other hand is where you can wax poetic about your business – who you are, what your goals are, how you got started, what you can do for your customers or clients… anything that you think will get people are your side.
An account manager for all the outsourced accountant work needs…
Two things to keep in mind for the Introduction area.
The first is to be inviting. What this means is while of course you're writing about yourself, try to write this section in a way that displays what customer pains your business soothes.
In other words, make it as much about your customers as about yourself.
The second point to think about in this section is to remember to use those SEO keywords and phrases. Own a comic book shop in Melbourne? Then make sure you have "comic" "Melbourne" and maybe some of the most popular comic book names somewhere in here so Google can index that information in relation to your business.
The Bragging Rights bit is a tiny little space for you to have some fun. The suggestions that Google itself gives are "survived high school" and "have 3 kids." Stick something fun and/or interesting about yourself in here. It can be business-related or not – someone might choose your shoe store over a competitor's because you mention that you've just taken up surfing.
And remember, like we said before all of these sections can be edited later, so feel free to try new things in these sections to see if you gain more traction with one approach over another.
The outsourced accountant….  With a minimum of 50 hours per month only, you can have a dedicated professional accountant!
Linking Other Social Media Accounts to Google+
If you're using other social media outlets to spread the good news about your business you're able to link them to your Google+ page.
Staying on the About page, scroll down until you see the box named Links on the bottom right: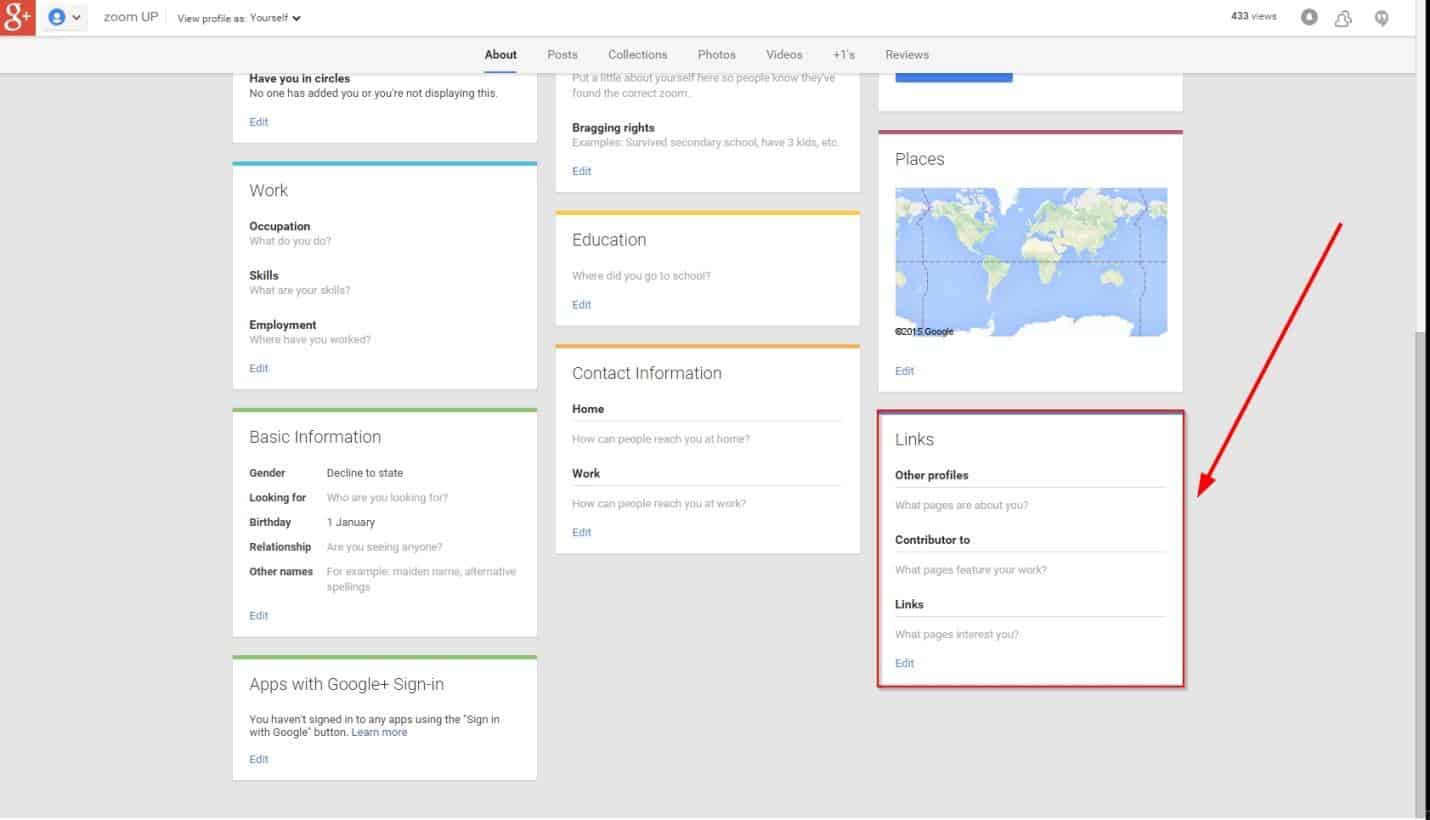 Hit "Edit." You'll get this: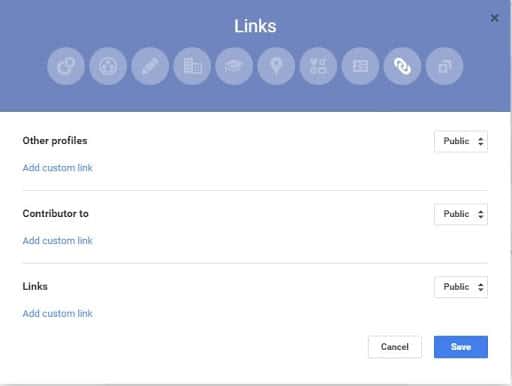 If only outsourcing could offer companies the outsourced accountant teams at a fixed fee rate for every job!
Along the top of this box you see a number of circles. Clicking on any of them lets you edit that particular section. Hovering over each circle will tell you what the icon means.
Here on the Links page the first section, "Other profiles," is where you can add other social media accounts like Twitter, Youtube, LinkedIn, Facebook, etc… This links these accounts not just with Google+, but with Google's search engine as well.
The "Contributor to" section is where you can link to online media outlets that you have contributed to. So say you're a computer repair shop, and you've written helpful how-to articles for a computer-related blog. That would go in this section.
Continued in the next blog post: Google+ Guide Part 4 Google+ Example Pages